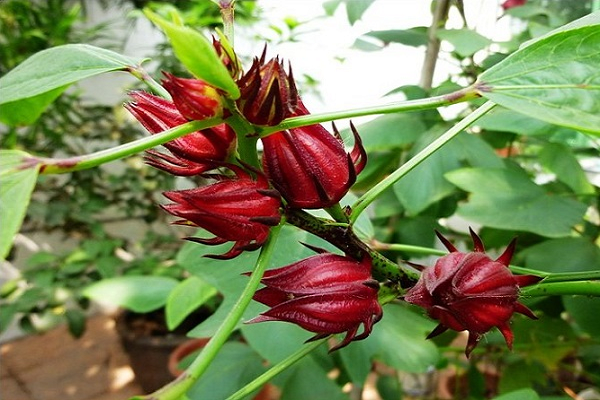 Plant introduction:
It is also called Luoshen Flower, which looks like a rose rather than a rose. Its beautiful shape is like Luoshen, hence its name. It is also called Roselle, which is bright in color and sour in taste. Due to the geographical and climatic constraints, the output is very small and precious. Every flowering season, red, green, yellow, very beautiful, has the reputation of "plant ruby". In China, Fujian, Taiwan, Guangdong, Hainan, Guangxi and southern Yunnan are introduced for cultivation.
Active ingredients:
Roselle is rich in protein, organic acid, Vc multiple amino acids, a large number of plant pigments and multiple minerals. The fresh calyx contains 0.93% Vc, 0.21% VB, 0.45% protein, 1.34% ash, 1.39% pectin, 87.86% water, 0.01% carotene, 1.76% starch, 2.55% sugar (calculated by glucose). The dry calyx contains 1%~1.5% total anthocyanin (pigment), 10%~15% citric acid, hibiscus acid and other organic acids, and 16% reducing sugar Protein 3.5%~7.9% Other non nitrogen substances 25%, fiber 11%, ash 12%. In addition, roselle extract contains reducing sugars, glycosides, phenols, a small amount of alkaloids and resins.
1. Effectively promote the death of some cancer cells
-Protocatechuic acid (PCA) of roselle can promote the death of blood cancer cells; Roselle extract (Rs) can inhibit the effect of chemicals (AOM) on colon carcinogenesis; The polyphenols of roselle (HPE) can promote the apoptosis of gastric cancer cells; Anthocyanins (HAc) of roselle can promote the withering and dying of blood cancer cells.
2. Effective prevention of cardiovascular disease
-Roselle contains flavonoids, protocatechuic acid, anthocyanins, isoflavones, rich amino acids, vitamins, sugars, organic acids and other chemical components, which help to reduce cholesterol and triglycerides in human blood, inhibit the oxidation of low-density lipoprotein, inhibit platelet aggregation, reduce the formation of thrombus, reduce atherosclerosis, and effectively prevent cardiovascular disease.
3. Beauty
Roselle contains 14 kinds of amino acids and proteins needed by human body, organic acids, vitamin C, a large number of natural pigments and various minerals beneficial to human body. It has the effects of clearing away heat, detoxifying, beautifying skin, removing spots, etc. Regular consumption can improve the rough and dull skin condition, leaving the skin white and delicate
4. Protect liver function
-The extract of roselle can increase glutathione (GSH) and protect liver function; Anthocyanidins (HAc) of roselle can also inhibit liver oxidative damage caused by drugs.
5. The role of weight loss
-Roselle can detoxify, diuresis, remove edema, and promote bile secretion to decompose excess fat in the body
6. Strengthen stomach and intestines, restore intestinal motility, and improve constipation
-Roselle can effectively promote the metabolism of the body, strengthen the stomach and intestines, restore intestinal motility, and improve constipation,
7. Depressurization
--Roselle extract can also regulate blood pressure, balance blood lipids and improve sleep. It is helpful for the treatment of heart disease, hypertension, and regulation of blood lipids. It can not only relieve heat and fire, but also refresh the mind and relieve fatigue. The juice of rose eggplant is slightly alkaline. Regular consumption can balance the pH value in the body, improve the acidic constitution, eliminate fatigue, be beneficial to health, inhibit free radical activity, prevent cancer, and fight against aging.
In the product, it mainly plays the role of skin conditioner.
Roselle extract for skin care
Its efficacy in cosmetics and daily chemical products is mainly to moisturize and brighten.
Roselle extract has a good inhibitory effect on tyrosinase, combined with its strong antioxidant, it can be used as a whitening agent for cosmetics, and has a preventive effect on skin pigmentation; At the same time, it has moisturizing effect and can be used as skin moisturizer.