What is Konjac?
Views: 2 Author: Site Editor Publish Time: 2023-02-09 Origin: Site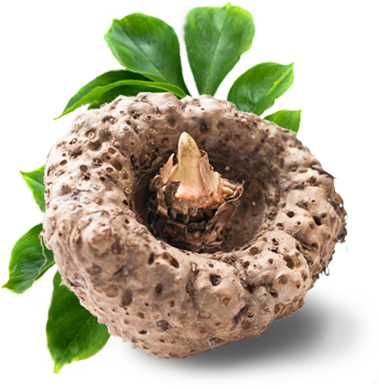 Konjac is a root vegetable that grows in parts of Asia.It is known for its starchy corms,which are tuberous parts that grow underground.The bulb is used to make a rich source of soluble dietary fiber called glucomannan.Konjac is used as a traditional medicine and as a food source for making noodles and snacks.In the Western world, it is used as a food additive and dietary supplement to lower plasma cholesterol, improve carbohydrate metabolism,and aid in bowel movements.Lately,you might find it in the grocery store as shirataki noodles.
Konjac Benefits
The high fiber content of konjac has many health benefits.Soluble fiber helps lower cholesterol and blood sugar levels.A high-fiber diet may also help regulate bowel movements, prevent hemorrhoids, and help prevent diverticular disease.
Here's what the research says:
Konjac and Constipation:A 2008 study found that glucomannan may help prevent constipation.The study showed that adding glucomannan to a low-fiber diet increased the number of probiotic bacteria in the stool.It also improves bowel function by 30%.
Konjac and weight loss
Fiber is filling.Eating it often helps keep you feeling fuller for longer, so you're less likely to overeat or snack between meals.Konjac also dilates the stomach and helps keep you feeling full.According to a 2005 study, adding a glucomannan fiber supplement to a 1,200-calorie balanced diet resulted in greater weight loss than a 1,200-calorie diet plus a placebo.Adding additional fiber supplements (guar gum or alginates) had no effect.
Konjac and Cholesterol
A 2008 systematic review found that konjac may help lower total cholesterol,LDL (or "bad") cholesterol,and triglycerides.Konjac can also reduce body weight and fasting blood sugar.The researchers concluded that glucomannan may be an adjunct (add-on) therapy for people with diabetes and high cholesterol.A later study found that konjac lowered LDL cholesterol and recommended its use to reduce the risk of cardiovascular disease.
Konjac and Skin Health
According to a 2013 study,konjac may reduce acne and improve skin health.It is thought to reduce allergic reactions and improve wound healing.
How to Use Konjac
You can use konjac as noodles in stir-fries,and konjac flour in baked goods and sauces.Konjac supplements are available online or at most natural health stores.The U.S.Food and Drug Administration (FDA) regulates dietary supplements differently than regulations covering "regular" foods and drugs.Under the Dietary Supplement Health and Education Act (DSHEA) of 1994, a company has a duty to determine that the dietary supplements it manufactures or distributes are safe and that any claims made about them are supported by sufficient evidence that they are not false or misleading.It's best to only buy konjac supplements from reputable manufacturers.
Take konjac with plenty of water, preferably before meals.There is no approved standardized dosage for konjac.Recommended dosages vary by manufacturer and what you are using konjac for.Always follow the manufacturer's dosing directions,or contact your physician or qualified natural health practitioner for advice.