what function of the Horny goat weed
Views:1 Author:Site Editor Publish Time: 2020-10-19 Origin:Site
Horny goat weed is a herbal plant that is widely used to overcome various health problems, get rid of fatigue, and treat impotence or erectile dysfunction. However, are the benefits of horny goats as a drug for male erectile dysfunction real?
What is horny goat weed?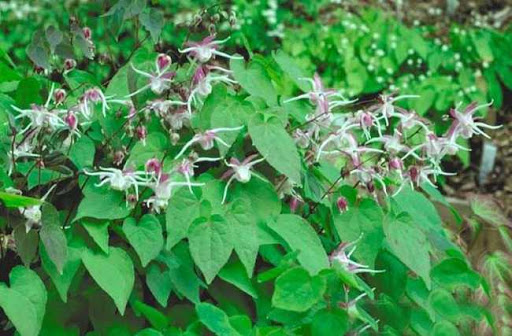 Horny goat weed is a herbaceous plant that originated from Epimedium grandiflorum (Epimedium grandiflorum) species and is widely cultivated in China and other Asian plains. Epimedium contains an active ingredient called icariin. This compound produces various health benefits when consumed. In fact, it is said that icariin itself can treat the male sexual problem that people worry about, that is, impotence.
In addition to being considered effective in overcoming impotence, other benefits of horny goat weed can help treat certain health conditions, namely:
hypertension
Atherosclerosis
Low libido in men and women
Symptoms of menopause
Osteoporosis
Brain Injury
fatigue
Usually, this herbal plant is packaged in various forms, from tablets, capsules, powders to teas.
Are the benefits of horny goat weed effective in overcoming impotence?
Impotence or erectile dysfunction is the inability of the penis to achieve and maintain an erection. This situation may be a heavy blow to men, because their self-confidence and self-esteem will automatically decrease or even disappear.
Therefore, there are many ways to overcome this problem. Of course, the benefits of horny goat weed, which is said to be able to overcome impotence, have become a great hope for many men who experience erectile dysfunction problems. So, is this herb really effective in overcoming impotence?
A 2008 study quoted from WebMD found that there is evidence that the active compound icariin in horny goat weeds can inhibit phosphodiesterase (PDE5), an enzyme that restricts blood flow to the penis and prevents the expansion of internal penile arteries . Therefore, due to the compound icariin in the horny goat weed, blood can easily enter the arteries of the penis and the three cylinders until an erection can finally be formed.
In addition, research published in the "Journal of Sexual Medicine" also investigated the effect of this herb on mice. As a result, the researchers found that mice given horny goat weed extract showed enhanced erectile function.
Therefore, although research on the effectiveness of this plant in treating erectile dysfunction is still very limited, the use of Epimedium to overcome impotence has proven to be effective. In addition, studies have shown that this plant can work better and produce fewer side effects compared to other erectile dysfunction drugs.
However, remember that this natural impotence medicine will only have a temporary effect, not a permanent one. So you still need a doctor's medicine as the main treatment.
Does honey goat weed cause any side effects?
Honey goat weed is basically safe to eat. However, try not to use it for a long time. Because, long-term use, especially high doses, can cause various symptoms, such as:
dizziness
Irregular heartbeat
Hypotension
Dry mouth
nosebleed
twitch
Not breathing
Therefore, do not take this supplement for a long time. You can drink according to the dosage and rules listed on the package. Because there is no research to set a specific dose for this herbal plant.
However, some studies that have been conducted mention a safe dose of about 6 to 15 grams per day. You can try it for a month to see its effect.
Always consult a doctor before deciding to take horny goat weed. This is especially true if you are still receiving treatment or taking regular medications such as aspirin, birth control pills, high blood pressure medications, cholesterol medications, thyroid hormone lowering medications, and antidepressants.