Uses and effects of Lotus Leaf Extract
Views: 1 Author: Site Editor Publish Time: 2023-02-17 Origin: Site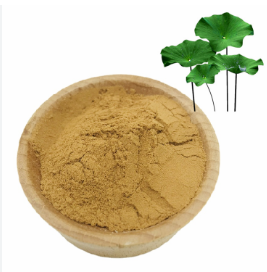 Source: This product is the dried leaves of Nelumbo nucifera Gaertn.Harvest in summer and autumn, and remove the petiole when it is 70% to 80% dry in the sun, fold it into a semicircle or fan shape, and dry.Origin: It is planted in both the north and the south of my country, mainly distributed in Hubei, Hunan, Jiangxi, Fujian, Jiangsu, Zhejiang, Shandong, Hebei and other provinces.Active ingredients:The main active ingredients are alkaloids, flavonoids, volatile oil, etc. Nuciferine is the most studied alkaloid, and the main flavonoids are quercetin and its derivatives。
Benefits
1.Antibacterial effect
The lotus leaf extract has certain antibacterial effects on Penicillium, yeast, Aspergillus niger and Rhodotorula, but the antibacterial effect on yeast and Rhodotorula is better than that on Penicillium and Aspergillus niger, and with With the increase of the concentration of the extract, the antibacterial effect was enhanced.
2.Weight loss and lipid-lowering effects
The flavonoids of lotus leaf can significantly lower serum cholesterol (TC), lower serum triglyceride (TG), lower body weight and increase serum HDL-C, HL and LPL enzyme activities in rats with hyperlipidemia.The lotus leaf extract can reduce the digestive capacity of the body, reduce the absorption of lipids and carbohydrates, and strengthen the regulation of fat metabolism and energy loss, thereby effectively resisting obesity.
3.Antioxidant effect
The water extract of lotus leaf is a good antioxidant, and it can show very strong antioxidant capacity at a lower concentration.
1.Antispasmodic effect
Nuciferine contained in lotus leaf extract has antispasmodic effect on smooth muscle.
2.Antihypertensive effect
The infusion and decoction of lotus leaf can directly dilate blood vessels and cause a moderate degree of antihypertensive effect in animal experiments.6.Other functionsAlkaloids have anti-viral, anti-inflammatory and anti-allergic effects; total alkaloids have anti-mitotic effects and inhibit pancreatic lipase; lotus leaf extracts have the effect of inhibiting HIV proliferation.
Applications
Ordinary food, lotus leaf is used as a raw material for medicine and food, and can be used in various foods, such as beverages, solid drinks, and compressed candies.Health food, the most widely used effect of lotus leaf in domestic health food is to reduce fat and lose weight.Can be used in supplements that claim to help maintain healthy blood lipid levels and laxatives.In the daily chemical industry, lotus leaf powder and lotus leaf extract are included in the 2021 edition of the "Catalogue of Used Cosmetic Raw Materials", which can be used for antibacterial, whitening, and sunscreen products.The main functions are antibacterial and antioxidant.