Red Rose Extract: A Natural Way to Get Healthy Skin
Views: 3 Author: Site Editor Publish Time: 2023-01-09 Origin: Site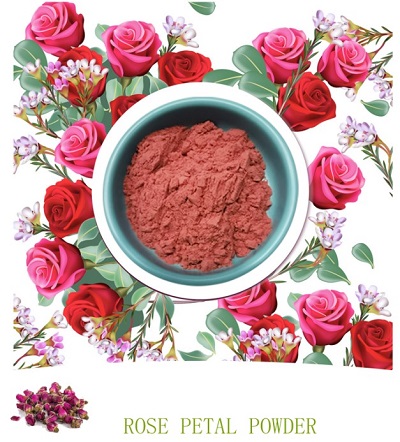 Red rose extract source
Double red rose, dry buds and flowers of double red rose Rose rugosa cv.plena, Rosaceae. The main place of origin is Pingyin County, Jinan City, Shandong Province.
Rose flower, dry flower buds of Rosa rugosa Thunb.
Red rose extract active ingredients
Flavonoids (flavonols, catechin, epicatechin, chlorogenic acid, caffeic acid, gallic acid, rutin, quercetin, quercetin, etc.); volatile oils and aroma components (with Alcohols, terpenes, esters, aldehydes, alkanes and ketones, etc.); also contain polysaccharides, fatty acids and amino acids.
Get healthy skin with red rose extract
1. Whitening beauty
Tyrosinase: Melanocytes are distributed in the basal cells of the human epidermis. Tyrosinase is a key enzyme in the formation of melanin. Its activity directly affects the uniformity and depth of skin color.
Red rose pollen can inhibit the activity of tyrosinase, thereby inhibiting the synthesis of melanin and playing a whitening effect.
2. Anti-photoaging
Red rose pollen can inhibit the activity of MMP-1, thereby inhibiting the decomposition of collagen, inhibiting wrinkles and maintaining skin elasticity
3. Anti-glycation
Rose pollen inhibits the formation of carbonyl compounds during the saccharification reaction, thereby reducing the formation of AGEs, the final product of saccharification. Smooth wrinkles, make skin plump, moisturized and elastic, and increase skin's long-term anti-aging ability
4. Inhibit collagen breakdown
Having a youthful and attractive skin appearance is very important to most people. Collagen is what supports the structure of the skin, so it plays a key role. The amount of collagen in the skin peaks around the age of 25, after which it begins to decline.
Rose pollen inhibits the activity of collagen-decomposing enzymes, thereby inhibiting the loss and reduction of collagen
5. Inhibit the decomposition of hyaluronic acid
Rose pollen inhibits the activity of hyaluronidase, inhibits the loss of hyaluronic acid, and enhances the water retention function of the skin
Solve the root problem and restore your white and tender skin
üEffectively inhibit the activity of tyrosinase, resist photoaging, inhibit melanin production from the inside out, improve the overall skin tone, and brighten the whole body.
üRepair skin damage, promote collagen formation, and restore skin elasticity.
üAnti-glycation, reduce fine lines, dry lines
üInhibit the activity of hyaluronidase and promote the production of hyaluronic acid. Improve dull and sallow skin caused by dryness.