Hami melon and Cucumis melo
Views: 2 Author: Site Editor Publish Time: 2023-05-22 Origin: Site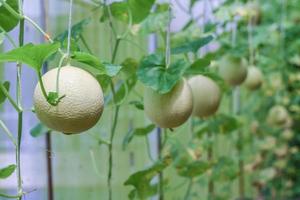 Hami melon is a type of muskmelon native to Hami, Xinjiang, China.It is also known as Chinese cantaloupe or snow melon.External color is usually white to pink or yellow to green.The pulp inside is sweet and crunchy.In Mandarin, cantaloupe can also be used to refer to cantaloupe.
Cultivation
The origin of cantaloupe can be traced back to the Han Dynasty in China.From 58 AD to 76 AD, cantaloupe was presented to Emperor Han Ming by officials as a rare tribute from the Western Regions, called kùhóng (kuhong).Xinjiang's unique geographical environment (high altitude, large temperature difference between day and night, and sufficient sunshine) has created different varieties of cantaloupe such as yellow honey cantaloupe and red honey cantaloupe.More than 100 cantaloupe cultivars and hybrids are grown in China.The Xinjiang Uygur Autonomous Region has different protected areas for cantaloupe cultivation, among which the protected area in Yiwu County, Hami City covers an area of 150 kilometers.The low-temperature storage method of cantaloupe is also unique. Among them, Golden Queen Cantaloupe can be stored at 3°C for 18 days and still maintain its original flavor.
Cucumis melo
Melon, also known as muskmelon,is a species of Cucumis genus that has been developed into many cultivars.The fruit is pepo.The flesh can be sweet or light, musky or not, and the rind can be smooth (like honeydew melon), ribbed (like European cantaloupe), wrinkled (like casaba melon), or reticulated (like muskmelon).In North America, melon varieties are often referred to collectively as muskmelons, and include the musky, reticulate-peeled varieties and the odorless, smooth-peeled varieties, while cantaloupe is often referred to as the former.However, melon in the narrow sense refers only to the musky, reticulated peel type, whereas true cantaloupe is a European type with ribbed and often warty peel that is rarely grown in North America.The origin of melons is unclear.Research has shown that seeds and rootstocks were among the commodities traded on caravan routes in the ancient world. Some botanists believe melons are native to the Levant and Egypt, while others believe they originated in Iran India, or Central Asia.There are also those who support African origins, and wild watermelons can still be found in some modern African countries.
Genetics
Melons are monoecious plants.They do not hybridize with watermelons, cucumbers, squash, or pumpkins, but variants within species often hybridize.The genome of the melon was first sequenced in 2012.Some authors consider C.melo to have two subspecies, C. melo agrestis and C. melo melo.Variants within these subspecies belong to groups whose genetics largely coincide with their phenotypic characteristics, such as disease resistance, coat texture, flesh color, and fruit shape.Varieties or landraces (some of which were originally classified as species; see list of synonyms at right) include C. melo var. acidulus, adana, agrestis, ameri,cantalupensis, chandalak, chate, chinensis, chito, conomon, dudaim, flexuosus, inodorus, makuwa, momordica, reticulatus and tibish.Not all varieties are melons. Snake melon, also known as Armenian cucumber and snake cucumber, is a non-melon melon found throughout Asia from Turkey to Japan.It is similar to cucumber in taste and appearance.Outside of Asia, snake gourd is grown in the United States, Italy, Sudan, and parts of North Africa, including Egypt. [9] Snake melon is more popular in Arab countries.
Other varieties grown in Africa are bitter and grown for edible seeds.For commercially grown varieties, certain characteristics, such as a protective stiff net and firm flesh, are preferred for shipping purposes and other requirements of the commercial market.