Ginseng Stem Leaf Extract Health and Beauty Benefits
Views: 1 Author: Site Editor Publish Time: 2023-02-23 Origin: Site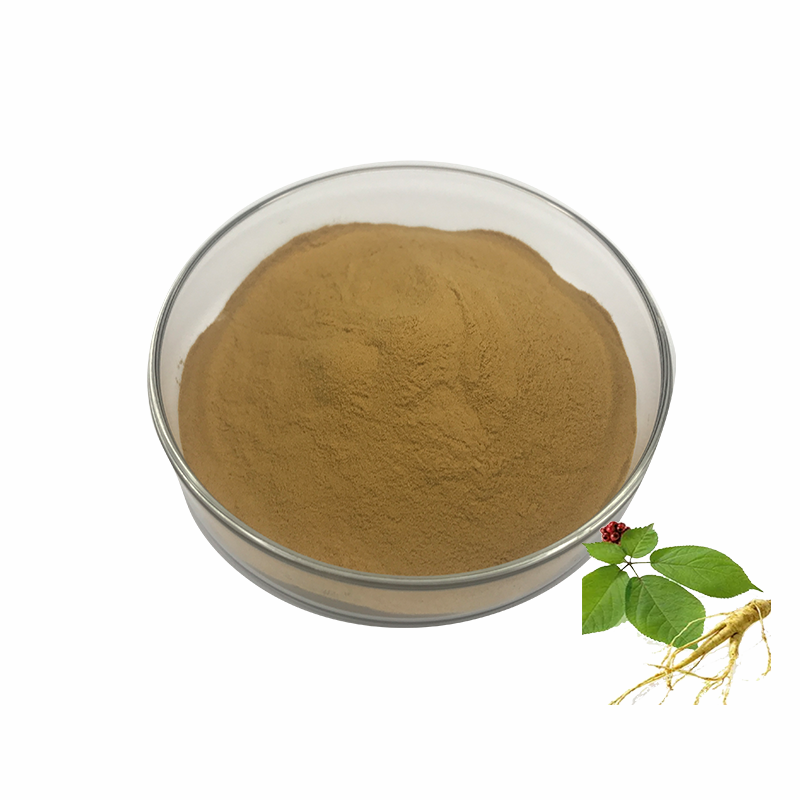 Ginseng stem and leaf saponins,belonging to Araliaceae Panax genus,are yellow-white powders,which have anti-aging,anti-fatigue, and memory-enhancing effects.Ginseng stem saponins belong to the species produced by the stem leaves of the roots of ginseng.
The total saponins of ginseng stems and leaves are generally yellow-white powder preparations,with a slightly odorous taste,certain hygroscopicity, and are relatively easy to dissolve in water
Health benefits
1.Anti-fatigue
Ginseng stem and leaf extract and its total saponins administered in different ways can enhance the activity of animals swimming in different water temperatures (20-39°C),and have anti-fatigue effects.Its anti-fatigue mechanism may be related to its elevation of blood lipids and promotion of protein and RNA synthesis.
2.Anti-stress
Ginseng stem and leaf saponins can significantly improve the survival time of scalded mice;prolong the survival time of mice under hypobaric and hypoxic conditions,and protect the activity of peroxidase in brain and liver tissues;it can also significantly prolong the survival time of mice under normal pressure and hypoxia conditions.Rat survival time, improve survival rate,reduce oxygen consumption;improve the body's tolerance to 60Co ray irradiation,and have radiation effects;have protective effects on rat adrenal cortex function reduction and immune dysfunction caused by long-term microwave irradiation,and have anti-inflammatory effects. microwave radiation effect.
1.Enhance immune function
Ginseng stem and leaf saponins can promote the proliferation of lymphocytes, and can improve the pathological and morphological changes of spleen,thymus,and mesenteric lymph nodes, as well as the degeneration and necrosis of lymphocytes.
2.Regulate body functions
Ginseng stem and leaf extract can restore the function of macrophages in the suppressed state of mice caused by hydrocortisone;it has a protective effect on the hypofunction of the adrenal cortex caused by microwave radiation;it has inhibitory effect on the hyperglycemia caused by adrenaline;Hypoglycemia has a rebound effect.
3.Regulate blood sugar
A variety of saponins in ginseng stems and leaves can regulate blood sugar.The mechanism is mainly related to anti-islet cell apoptosis,improving insulin resistance and lipid metabolism,and improving diabetes and diabetic nephropathy, diabetic cardiomyopathy,diabetic vascular disease and other complications,disease.
4.Effect on ankylosing spondylitis joint pain
Ginsenosides and polysaccharides enhance immunity, including enhancing the activity of phagocytic cells in the body,stimulating the body to produce corresponding antibodies to various antigens,promoting the transformation and proliferation of T lymphocytes and B lymphocytes, etc.,and can reduce the levels of TINF-α and IFN-γ.
1.Anti-aging
Ginsenosides accelerate the synthesis of nucleic acid and protein in the body,play a powerful role in anti-oxidation and scavenging free radicals,restore the vitality of skin fibroblasts,proliferate collagen fibers and elastic fibers, and show anti-aging effects.
2.Anti-proliferation effect of vascular smooth muscle cells
Ginseng stem and leaf saponins inhibit the expression of extracellular signal-regulated kinase-1 (ERK-1),and a larger dose can enhance the expression of mitogen-activated protein kinase phosphatase-1 (MKP-1),negative feedback regulation of ERK-1activity, plays an anti-proliferative role in vascular smooth muscle cells.
3.Effect on eye diseases
Ginseng stem and leaf saponins can change the intracellular calcium concentration by blocking calcium channels,changing the properties of the cell coat or interfering with the metabolism of cell substances to inhibit the proliferation of retinal pigment epithelial cells, thereby reducing visual impairment or even blindness and other serious eye diseases caused by proliferative vitreoretinopathy.