Best Konjac Powder
Views: 2 Author: Site Editor Publish Time: 2022-08-10 Origin: Site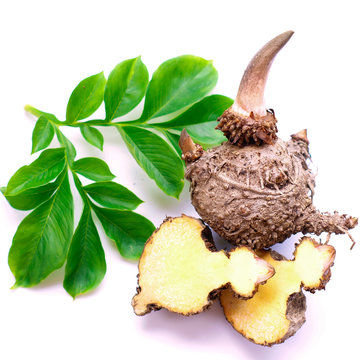 Konjac was planted more than 1000-3000 years ago. It mainly grows in mountainous areas with an altitude of 400-1500 meters. Konjac likes to be warm and humid, and the suitable temperature is 20 ℃ ~ 30 ℃. Konjac contains glucomannan, starch, protein, a variety of vitamins and trace elements such as potassium, phosphorus and selenium. The economically valuable component is glucomannan. Konjac is a plant that can extract a large amount of soluble dietary fiber in nature. The purity of dietary fiber can reach more than 95%.
Konjac planting and distribution: China has the largest planting amount in Sichuan, Hubei, Yunnan, Guizhou, Shaanxi, Guangdong, Guangxi, Taiwan and other provinces. The rest are distributed in Japan, Southeast Asia and other places. However, konjac in Southeast Asia (Myanmar, Vietnam, Thailand, Indonesia, etc.) is mainly wild, and there are signs of artificial cultivation in recent years.
Konjac powder product overview
The main component of konjac powder is glucomannan (KGM). Its chemical structure is a high molecular heteropolysaccharide with a molecular weight of 200000-2 million daltons, which is polymerized into a main chain by B-1, 4 glycosidic bonds from D-glucose and D-mannose residues with a molecular ratio of about 15:23.
Konjac powder is classified as follows
Konjac powder series
The grain size is 40-120 mesh. The processing process is to peel and clean the harvested fresh konjac, then cut it into strips or sheets, and then dehydrate it through baking equipment. The dried konjac strips or pieces are broken, ground, and starch, fiber and other qualities are removed by special processing equipment to obtain konjac powder.
Konjac micro powder series
The particle size is ≥ 120 mesh, and the processing process is to further purify and refine konjac fine powder as raw material, so as to obtain konjac fine powder with higher quality and more convenient use.
3. Product efficacy
1. Increase intestinal probiotics
2. Lose weight
3. Clear intestines and relieve constipation
4. Lipid and glucose lowering
5. Improve human immunity
Konjac has health-care effects such as reducing "three highs", reducing weight, improving immunity, and increasing detoxification and defecation. There are many kinds of products that can be developed, which are in line with the current development trend of people paying attention to health and health care, and there is a great space for industrial development.
In recent years, with the continuous improvement of living standards, people have put forward higher requirements for healthy diet life and body management. Alternative food with low calorie, easy satiety, high fiber and other characteristics has been welcomed by the majority of consumers.