Benefit of Bitter Melon Extract
Views: 3 Author: Site Editor Publish Time: 2022-09-15 Origin: Site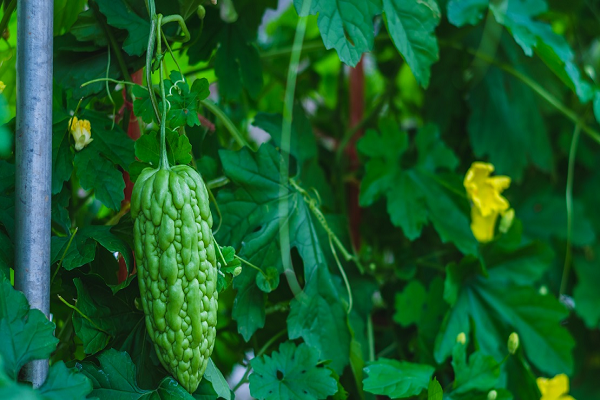 Balsam pear is a common food material and a favorite vegetable. The origin of balsam pear is not clear, but it is generally believed to be originated in tropical areas; It is widely planted in South Asia, Southeast Asia, China and the Caribbean Islands. Balsam pear is not only used as food material, but also a common medicinal material. The main component of balsam pear extract is balsam pear glycoside, which has a wide range of medicinal effects.
Chemical constituents of bitter melon
Balsam pear fruit contains Charantin, which is β- Sitosterol- β- D-glucoside( β- Sitosterol- β- D-glucoside) and 5,25-stigmaster-3-glucoside (5,25-Stigmastadien-3 β- ol- β- D-glucoside). It also contains 5-hydroxytryptamine and various amino acids, such as glutamic acid, alanine β- Alanine, phenylalanine, proline α- Aminobutyric acid, citrulline, galacturonic acid, pectin. It also contains lipid. The fatty acid in balsam pear is palmitic acid; Stearic acid, oleic acid, linoleic acid, linolenic acid, tung acid.
Advantages of bitter melon extract
(1) Antidiabetic effect
The extract of Momordica charantia contains steroidal saponins such as balsam pear, insulin like peptides and alkaloids, which endow Momordica charantia with hypoglycemic activity. Momordicin stimulates the release of insulin and blocks the formation of glucose in the blood stream. This function may play a huge role in the treatment of diabetes, especially non insulin dependent diabetes. The hypoglycemic function is attributed to two substances:
1) Momordicin - a crystalline substance obtained from the ethanol extract of Momordica charantia fruit. Momordicin at a controlled dose of 50mg/kg
The blood sugar of the experimental rabbits was reduced by 42% under the condition of. Momordicin shows the effect of pancreas and exopancreas, and has slight antispasmodic and anticholinergic effects.
2) P-insulin (or v-insulin, because it is plant insulin). Its structure is macromolecular polypeptide configuration, while the drug
Physically, it is similar to bovine insulin. P-insulin consists of two polypeptide chains linked by disulfide bonds. It has hypoglycemic effect on subcutaneous and muscular administration of P-insulin in diabetic patients. Its peak effect is different from that of bovine insulin 2 hours later, which occurs 4-8 hours later.
(2) Anti virus function and others
Momordica charantia extract has been proved to be effective for psoriasis, susceptibility caused by cancer, and pain caused by neurological complications, and may delay the onset of cataract or retinopathy, inhibit HIV, inhibit lymphocyte proliferation and macrophage and lymphocyte activity by destroying viral DNA.
(3) Good weight loss effect
The bioactive component, high-energy lipid scavenger, extracted from balsam pear extract, has a good effect on weight loss. Take it every day after test
High energy fat clearing element 2mg-4mg can absorb about 6-12kg fat and store it in waist, abdomen, buttocks, thighs, etc
About 3-7kg of fat is broken down.